Art Basel Miami Museum & Food Guide
Art Basel debuted in Miami Beach in 2002. Since then, Art Basel Miami has become the favorite annual winter meeting place for the international artworld. On December 3–6, once again, Art Basel Miami will take over the Miami Beach Convention Center and nearby Collins Park. Paintings, sculptures, drawings, installations, photographs, films, & works of the highest quality are displayed in the main exhibition hall, while ambitious artworks & performances become part of the landscape at nearby Collins Park.
In addition to the main event hosted in the Miami Beach Convention Center, satellite shows and galleries have spread out over Miami Beach as well as neighboring districts, – such as Wynwood, Arts & Entertainment and MiMo to create Miami Art Week.
We've put together a few of the best satellite art shows and eats on the beach and by district for art-loving, party-hopping foodies.
MIAMI BEACH
ART:
Art Basel Miami
Miami Beach Convention Center, 1901 Convention Center Drive, Miami Beach, FL 33139
SCOPE Miami Beach
 801 Ocean Dr, (between Ocean Drive and 8th St.), Miami Beach, FL 33139
SCOPE, the premier showcase for international emerging contemporary art and multi-disciplinary creative programming, will debut SCOPE Miami Beach with a more spacious pavilion to showcase a robust VIP program featuring three curated sections: Juxtapoz Presents, the Breeder Program, and FEATURE.
Once again, VH1 is teaming up with SCOPE to bring the ultimate mash-up of art, music and pop culture to Miami Beach. This year VH1 is taking you back to the early '90s with "The Breaks" – an interactive lounge space inspired by the upcoming VH1 original movie THE BREAKS and live DJ set by Mack Wilds. The Breaks Lounge  will capture the spirit of that time and place with a playlist curated by Q-Tip and rare hip hop memorabilia.
FOOD & DRINK:
Michy's and The Garden Café by Michelle Bernstein
In the Miami Beach Botanical Gardens,  2000 Convention Center Drive, Miami Beach, FL 33139 -across the street from the Miami Beach Convention Center.
Celebrity Chef Michelle Bernstein returns to the Miami Beach Botanical Gardens with two concepts exclusive to Art Basel Miami Beach – The Garden Café by Michelle Bernstein and, housed in the Banyan Room and on its terrace, Michy's Pop Up. Michy's serves a sophisticated and sublime dinner menu of Bernstein signatures and new favorites; The Garden Café is the perfect spot for breakfast, lunch or grab n' go gourmet fare.
Shokudo by World Resource Café
In the SCOPE Miami Beach Pavilion, 801 Ocean Drive, Miami Beach, FL 33139
Shokudo, an Asian Bistro restaurant, specializes in providing a broad range of comfort food favorites from across the Orient such as Sushi, Ramen, Kalbi, Pho, and an array of other cross-cultural dishes.
WYNWOOD DISTRICT
ART:
Art Miami and CONTEXT
Art Miami Pavilion, 3101 NE 1st Avenue ,Miami, FL 33137
Art Miami is the leading international contemporary and modern art fair that takes place each December during art week at the midtown Miami complex in the renowned Wynwood Arts District.
CONTEXT Art Miami, the sister fair to Art Miami, is dedicated to the development and reinforcement of emerging and mid-career artists.
The Rubell Family Collection
95 NW 29th Street, Miami, FL 33127
The Rubell Family Collection (RFC) is one of the world's largest, privately owned contemporary art collections. In Miami, Florida, since 1993, the RFC is exhibited within a 45,000-square-foot repurposed DEA confiscated goods facility. The collection is constantly expanding and features such well-known artists as Jean-Michel Basquiat, Keith Haring, Damien Hirst, Jeff Koons, Cindy Sherman and Kara Walker.
The upcoming exhibition during Art Week, NO MAN'S LAND: Women Artists from the Rubell Family Collection, will focus on and celebrate work made by more than a hundred female artists of different generations, cultures and disciplines.
To celebrate the opening of NO MAN'S LAND, Jennifer Rubell will be presenting Devotion, her 12th annual large-scale, food-based installation on December 3, 2015 from 9 to 11 a.m. Devotion will explore the everyday gesture as a medium for the expression of love. Using bread, butter, and a couple engaged to be married as her media, Rubell will transform the simple act of cutting and buttering bread into a poetic exploration of repetition as devotion.
FOOD & DRINK:
Beaker & Gray
2637 North Miami Avenue, Miami, FL 33127
A 120-seat eatery with an inventive, globally-inspired menu and vibrant after-hours bar.
MIMO DISTRICT
ART:
Miami Project and Art on Paper Miami
The Deauville Beach Resort, 6701 Collins Avenue, Miami, FL 33141
Miami Project has secured its reputation as "the most cutting edge fair" by showcasing the richness to be found if you look past the main fair. Miami Project's new location at The Deauville Beach Resort will further cement its status as the best venue from which to acquire modern and contemporary art.
Building on the momentum of New York City's acclaimed Art on Paper fair, Art on Paper Miami will feature exhibitions of paper based art presented by twenty galleries.
FOOD & DRINK:
Pineapple Assembly
Pop-up lounge at the Deauville Beach Resort, 6701 Collins Avenue, Miami, FL 33141
A collection of small food and beverage makers from Miami and New York are working together to offer visitors trendsetting food and drink in an exciting new lounge adjacent to the Deauville's popular oceanfront pool.
Bar Lab –Hand-crafted cocktail bar pop-up from Miami's  own Broken Shaker, named the 14th best bar in the world and the 4th best bar in America by World's 50 Best Bars.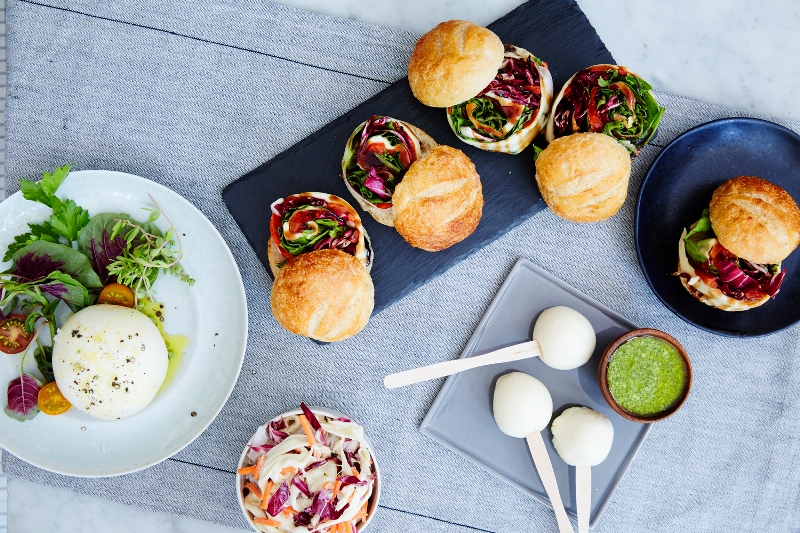 Big Mozz – Homemade mozzarella, stretched on site, by hand.
Black Tree – Imaginative sandwiches made from sustainable and local ingredients
Coco & Co Tiki Carts -Iced-cold cracked coconuts, both virgin and otherwise. Plus, each cart is designed to be mobile hang station; fitted with a solar-powered speaker system and phone charging unit.
Blue Collar
6730 Biscayne Boulevard, Miami, FL 33138
Owner and executive chef Daniel Serfer's acclaimed eatery, offering contemporary American comfort food in a casual setting, featuring "The Dailies", daily carnivorous and veg-friendly chalkboard specials.
ARTS & ENTERTAINMENT DISTRICT
ART:
SPECTRUM Miami Tent and Red Dot Art Fair
1700 NE 2nd Avenue (NE 2nd Ave. at NE 17th St.), Miami, FL 33132
Spectrum Miami  hosts of special curated programs, late-night parties, lively entertainment, and cutting-edge art from over 130 artists and galleries worldwide. ArtSpot is a standalone show within Spectrum Miami curated by award-winning art dealer Aldo Castillo, featuring modern and contemporary galleries with a strong Latin-American emphasis.
Red Dot Art Fair, which will share the new 7 acre location with the Spectrum Miami tent , offer a unique selection of approximately fifty galleries exhibiting contemporary painting, sculpture, photography and secondary market.
FOOD & DRINK:
Verde at PAMM
In the Pérez Art Museum Miami, with separate and museum entrances, at 1103 Biscayne Blvd, Miami, FL 33132
A spacious eatery in the Pérez Art Museum Miami (PAMM ), with New American fare, such  Thin Crust Squash Blossoms Pizza, plus bay vistas & outdoor tables.
Mignonette
210 NE 18th Street, Miami, FL 33132
A charming restaurant, housed in a 1930's era gas station, where oyster lovers can enjoy a great beer or glass of wine, slurp oysters, sample fine caviar, dig deep into a fried shrimp po'boy or savor one of Mignonette's main plates.